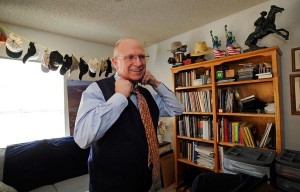 LAS VEGAS — It's a hindrance in other parts of the country, but front-runner Mitt Romney's Mormon faith is now likely to extend his momentum as the Republican presidential nomination contest enters a region that's proved fruitful to him in the past.
With electability a focal point among GOP voters, Romney is well-equipped to gain further traction in his message of being the candidate best fit to challenge President Barack Obama, due in part to the fact he'll receive far-reaching support from voters like state Sen. Joe Hardy and Heidi Wixom, a reading teacher, in Saturday's Nevada caucuses.
"There's a common belief in the Mormon Church that we should vote and be engaged in the process of government," said Hardy, who is among nine Mormons to serve in the Nevada Legislature.