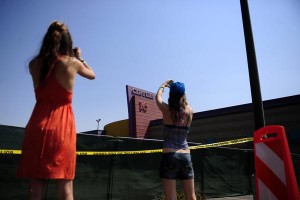 When is the time right to have a discussion about what should be done with the Century Aurora 16 theater? It's a question on the minds of many in this community who continue to grieve a month after the suburban theater became the site of one of the deadliest mass shootings in U.S. history.
For leaders in the city of Aurora, now is the appropriate time to begin talking about the future of the building, where 12 people were killed and 58 injured in an early-morning attack carried out during the premiere of the new Batman movie, "The Dark Knight Rises."
This week, Aurora officials launched an online surveyasking people to give their thoughts on the future of the theater. City leaders then plan to share those comments with officials at Cinemark — the company that owns the theater — for consideration in the decision-making process.