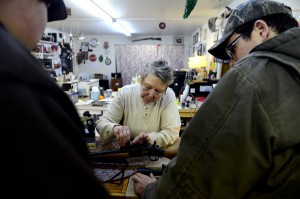 OTERO COUNTY, Colo. — Mac Holder takes a seat on the bench of a weathered wooden shooting table roughly 50 yards in front of a silver beer can impaled upright by a stake.
Here at the firing range of his family's pheasant and quail ranch on the outskirts of Rocky Ford, dozens of spent shotgun shells litter the parched ground around him. But on this recent afternoon, in his grip is a black Rock River AR-15 outfitted with a 30-round ammunition magazine. Holder pulls back and releases the charging handle, pushing a round into the chamber. He then tucks the butt of the semiautomatic gun into his left shoulder and leans forward, staring down the scope mounted on top. Nine ear-splitting shots pierce the gentle breeze.
"It's a fun gun. It has low recoil. If you just like to shoot for practice, it's a great gun," says Holder, 28, after firing the weapon. "I've had it for nine years, keep it locked up and never had any problems with it."
Far from the gold dome of the state Capitol, and the state's more populated Front Range, generations of Colorado families like Holder's have grown up with firearms.