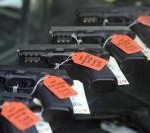 This year's statehouse battles over new gun regulations could all return next year with a renewed debate.
House and Senate Republicans are poised to present a series of bills in the 2014 session that look to repeal or alter some of the gun-control legislation passed by Democrats and implemented into law over the summer.
Indeed, Republicans are competing with one another to sponsor the bills.
And though the files are not yet public, GOP leaders say several Republicans have submitted gun-focused bill titles.