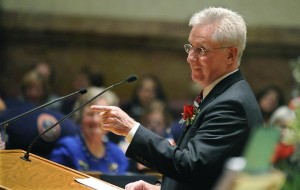 The effort to recall Colorado Senate President John Morse charged forward Tuesday with the secretary of state's office announcing that organizers submitted more than enough valid signatures to produce the first-ever recall election of a lawmaker in the state.
Secretary of state officials said that organizers with the El Paso Freedom Defense Committee's effort obtained 10,137 valid signatures from the roughly 16,200 signatures the group turned in earlier this month. To spark a recall, they needed just 7,178 verified, and they outpaced that figure by about 3,000 votes.
But supporters of Morse argued Tuesday the petition language used was incomplete and the recall effort should be set aside.